---
Mars Surveyor Artwork May / June 1994
---
29 August 1994
---
The NASA / Jet Propulsion Laboratory (Pasadena, California) prepared a brochure in May / June 1994 about the Mars Surveyor Program.

A very limited quantity of these brochure were printed.

They were mostly distributed to Members of Congress, to inform them of JPL's plans for a Mars program that would send 1 to 3 spacecraft to the Red Planet every 26 months from 1996 through 2005.

We reproduce here the artwork that was in the brochure.
---
Mars Surveyor Concept Art (54978 bytes)
---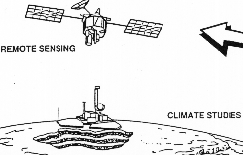 Mars Surveyor Overview Art (252543bytes)
---

Mars Surveyor Timeline 1996 - 2005 (21795 bytes)
---
---
Arizona Mars K-12 Education Program / K.S. Edgett / edgett@elvis.mars.asu.edu