TES NEWS Volume 4, Number 1, February 1995
---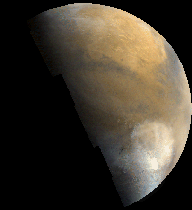 Recent Mars Books and Articles
Mars Pathfinder
"A Parachute and Set of Airbags ..." Astronomy, p. 24, January 1995. (Photo/article on the landing site at Ares Valles).
Mars and Space Books
Pale Blue Dot: A Vision of the Human Future in Space, by C. Sagan, Random House, New York, 1994. (A sequel to Cosmos. Has chapters about life on Mars, human exploration of Mars, etc.).

Atlas of Volcanic Landforms on Mars by C.A. Hodges and H.J. Moore, U.S. Geological Survey Professional Paper 1534, 1994. (Lots of pictures! For sale by U.S. Geol. Surv., Map Distribution, Box 25826, M.S. 306, Federal Center, Denver, Colorado 80225).

A Trip to Mars, by Ruth Young, illustrated by Maryann Cocca- Leffler, Orchard Books, New York, 1990. (Young childrens' story we recently "discovered").
How to See the Mars 1995 Opposition
"Your Guide to Mars in 1994-95," by J. Beish, Sky & Telescope, December 1994.

"A Personal Martian Chronicle," by D.L. Coleman, Sky & Telescope, December 1994.

"Discover the Red Planet," by M. Paulson, Astronomy, January 1995.
Meteorites from Mars (A technical review)
"What we have learned about Mars from SNC meteorites," by H.Y. McSween, Jr., Meteoritics, v. 29, pp. 757-779, November 1994.
---
Back to Contents of TES News February 1995
---
K.S. Edgett, January 1995
Arizona Mars K-12 Education Program / edgett@elvis.mars.asu.edu
---