TES NEWS, Volume 5, Number 2, June 1996
---
Emily Rap interviewed Jim Zimbelman for a school project. Zimbelman got his Ph.D. from Arizona State University in 1984 as a result of his studies on the martian volcano, Ascraeus Mons. Zimbelman collaborates with K. Edgett, TES News editor, on Mars geology research.
---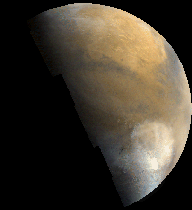 Exploring Careers: An Interview With Jim Zimbelman, Ph.D., Planetary Geologist
by Emily Rap
Student, Kyrene del Pueblo Middle School, Chandler, Arizona
Q: What is your job?
A: Dr. Zimbelman is a geologist at the Center for Earth and Planetary Studies, a department of the National Air and Space Museum at the Smithsonian Institution in Washington, DC. He specializes in remote sensing data for Earth and the planets.
Q: What level of education was required for your job?
A: A degree in geology is very important for Dr. Zimbelman's job, but related jobs can require degrees ranging from geophysics to astronomy. Although no certain degree is required, those who wish to write their own research proposals pretty much need to have a Ph.D. in one of the physical sciences.
Q: How does your job benefit people?
A: Dr. Zimbelman is involved in basic research to improve our understanding of the origin and evolution of the planets, producing new knowledge. At the Smithsonian, he is also very involved in passing new information on to the public, both through lectures and in displays at the museum. He believes this work benefits all people.
Q: How does your job relate to other jobs?
A: Geology is dependent upon results from other scientific disciplines such as chemistry, biology, physics, and astronomy. Interaction with specialists in these areas is common.
Q: Who would I contact if I wanted a job like yours?
A: Planetary geology research is carried out at several major universities such as Arizona State University, Univ. of Arizona, Univ. of Hawaii, Washington Univ. (in St. Louis), and Brown University.
Q: Is your job government or civilian?
A: Dr. Zimbelman's job is a government position. He is paid as a Federal Civil Servant. There are relatively few Federal organizations where planetary science is currently supported.
Q: Do you have people reporting to you? Who do you report to?
A: Two people currently report to Dr. Zimbelman, and both are students working on different projects. He doesn't really report to anyone, but he does have a supervisor (department chairperson). He is free to establish his own research program.
Q: Do you travel a lot? Where to?
A: Dr. Zimbelman travels quite a bit. He attends four major conferences each year, participates in a national lecturing program for the Smithsonian, does field work (e.g., the Mojave Desert, CA and southern Cascade volcanoes, CA). He also has one international trip each year, and takes various one-time field trips and workshops. It all adds up to an average of one trip per month.
Q: What days do you work? What hours?
A: Dr. Zimbelman works 40 hours per week, Monday through Friday.
I really enjoyed interviewing Dr. Zimbelman, and hope to have a job as a planetary geologist some day. --Emily Rap, November 1, 1995.
---
Back to Contents of TES News June 1996
---