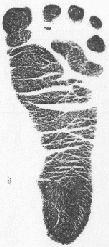 First Human Footprint on Mars!
by Ken Edgett, Arizona State University



Arizona resident Caden Daniel Wakefield is still too young to realize it, but his is the first human footprint on Mars!

Caden was born July 30, 1996, less than a year before Mars Pathfinder's historic landing. His footprint (above) was the closest thing to a signature that he could provide on his birth day.

At the same time Caden was born, the Mars Pathfinder science team was collecting signatures to be scanned onto a 3/4-inch microchip. The microchip was put on the lander, and on July 4, 1997, it landed with the spacecraft in Ares Vallis, Mars.

The microchip contains the signatures of about 35,000 people. These include the scientists and engineers who contributed to the mission, their families, a wide range of school children, and the general public. Signatures from the public were gathered at a JPL open house in 1996. School groups include science students from Tempe High School, Tempe, Ariz., which was in session in July 1996 when the signatures were gathered.

The microchip is in a circular patch that was attached to the spacecraft below the imager mast. Caden Wakefield is the nephew of Deb Wakefield, a teacher at Rover Elementary School in Tempe, Ariz., who has worked closely with the Arizona Mars K-12 Education Program for nearly five years.
---
TES News is published quarterly by the Arizona Mars K-12 Education Program. This newsletter may be copied for EDUCATIONAL PURPOSES ONLY.

EDITED BY Kenneth S. Edgett, Arizona Mars K-12 Education Program, Arizona State University, Tempe, Arizona, USA.


---