Mars Global Surveyor's Solar Panel Problem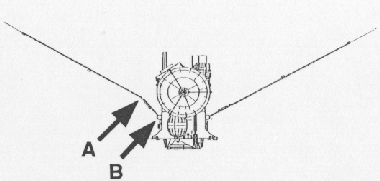 Mars Global Surveyor's "-Y Solar Panel" woes. Arrow A indicates the site of a broken hinge. This problem has been known since shortly after launch in November 1996. Arrow B is the location of the additional damage that occurred after launch. This damage was not realized until MGS encountered problems during aerobraking in early October 1997.
---
For TES News Article Related to This Figure, See...
MGS and TES Update, December 19, 1997

by Greg Mehall
---
TES News is published quarterly by the Arizona Mars K-12 Education Program. This newsletter may be copied for EDUCATIONAL PURPOSES ONLY.

EDITED BY Kenneth S. Edgett, Arizona Mars K-12 Education Program, Arizona State University, Tempe, Arizona, USA.
E-mail: ken.edgett@asu.edu

---