TES Spectra of Mars Properties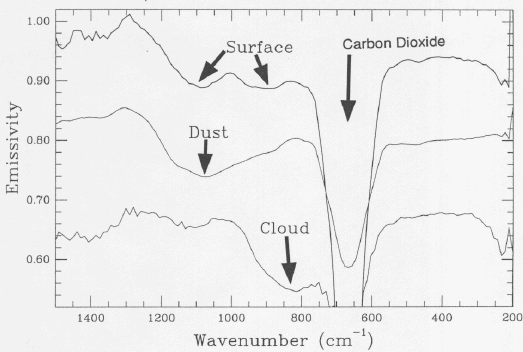 Early Results from MGS Thermal Emission Spectrometer. This picture shows what Mars Global Surveyor's TES data look like. This graph is called a "spectrum". The each "squiggly line" represents the spectrum of a different spot on Mars. The first spectrum (top) shows some features caused by minerals on the martian surface. The second spectrum (middle) shows a curve caused by dust in the atmosphere of Mars. The third (bottom) shows a curve caused by water ice clouds in the martian atmosphere. All three spectra show a deep feature caused by the carbon dioxide of Mars' thin atmosphere. "Wavenumber" represents the frequency (like the frequency of a radio station) of infrared energy seen by TES. The "Wavenumber" units are, basically, the number of light vibrations per centimeter.
---
For TES News Article Related to This Figure, See...
MGS and TES Update, December 19, 1997

by Greg Mehall
---
TES News is published quarterly by the Arizona Mars K-12 Education Program. This newsletter may be copied for EDUCATIONAL PURPOSES ONLY.

EDITED BY Kenneth S. Edgett, Arizona Mars K-12 Education Program, Arizona State University, Tempe, Arizona, USA.
E-mail: ken.edgett@asu.edu

---