---
February 1996, Volume 5, No. 1



---


Thermal Emission Spectrometer Project
Mars Global Surveyor Space Flight Facility
Department of Geology, Arizona State University
Box 871404, Tempe, Arizona 85287-1404, U.S.A.


---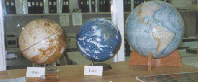 Preparing for the Red Planet: Mars Global Surveyor TES Takes Shape!
---
In This Issue:
---
Photo caption (above):
Globes of Mars (left) and Earth (center and right) at different scales. Photo by L. Jaramillo, 1995, during a visit to the MGS TES facility at ASU.
---
Edited by: K.S. Edgett and assisted by K. Mellgren

Original Text: 9 February 1996

Hypertext: 3 March 1996 & 2 September 1996



TES News is published quarterly by the 
Arizona Mars K-12 Education Program.  
It is also available on the World Wide Web 
at  /tesnews_info.html. 
Printing supported by 
JPL Contracts 960112, 960235. 

---